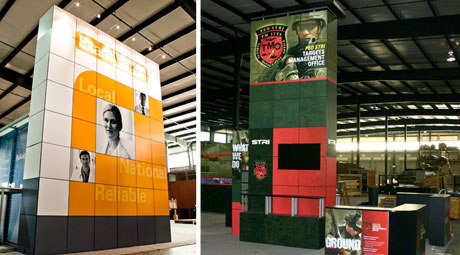 How do Towers work?
MultiQuad Towers give exhibitors the ability to create exhibits with heights up to 16 feet. Each MultiQuad Tower can be arranged in a variety of widths, depths and configurations to meet any size booth space, need or budget.
Utilizing a MultiQuad Tower is not only an innovative and attractive exhibit option; it is a smart move, helping to eliminate the cost and trouble of traditional hanging signs. Company logos or marketing messages can be placed anywhere across the top of the tower, propelling the message high above other exhibits, for maximum trade show visibility. With a lightweight structure and compact packing system, MultiQuad Towers pack and ship in one or two crates, helping to keep operating expenses (shipping, drayage, labor, etc.) manageable.
Tower Packages
To help exhibitors envision how the MultiQuad Tower system works, ExpoDisplays has created eight introductory packages of uniquely designed towers. For one set fee, exhibitors can purchase a pre-designed MultiQuad Tower package that contains everything needed to construct the design, including the framework, Quads™ and shipping container(s). Backed by ExpoDisplays' "Always in Stock™" promise of inventory, exhibitors have the option of choosing to purchase or rent a MultiQuad Tower at any time.
Move your mouse over the image to see controls to scroll through images or view enlargements.
MultiQuad Tower A: $14,717 (including crate)
Contents:
6 MQX-F24 Frames
80 GRA-Q1 Quads
1 Crate
Weight: 290 lbs (not counting crate)
MultiQuad Tower B: $33,234 (including crates)
Contents:
16 MQX-F24 Frames
160 GRA-Q1 Quads
2 Crates
Weight: 688 lbs (not counting crate)
MultiQuad Tower C: $14,947 (including crates)
This package adds a resourceful counter and bench seating to your exhibit. They can be placed flush against the exhibit (as shown) or positioned anywhere in your booth space.
Contents:
4 MQX-F24 Frames
84 FRA-Q1 Quads
1 MAX counter
1 MQX-F22C Counter
1 MQX-STK2 Seat
1 Crate
Weight: 320 lbs (not counting crate)
MultiQuad Tower D: $37,794 (including crates)
Features an identical front and rear configuartion; each with a side wall to maximize visibility from alternate angles.
Contents:
16 MQX-F24 Frames
208 GRA-Q1 Quads
2 Crates
Weight: 765 lbs (not counting crates)
MultiQuad Tower E: $33,234 (including crate)
Contents:
16 MQX-F24 Frames
160 GRA-Q1 Quads
2 Crates
Weight: 688 lbs (not counting crate)
MultiQuad Tower F: $10,337 (including crates)
Contents:
2 MQX-F24 Frames
56 GRA-Q1 Quads
1 MQX-F22C Counter
1 Crate
Weight: 191 lbs (not counting crate)
MultiQuad Tower G: $62,011 (including crates)
Contents:
32 MQX-F24 Frames
288 FRA-Q1 Quads
3 Crates
Weight: 1,324 lbs (not counting crate)