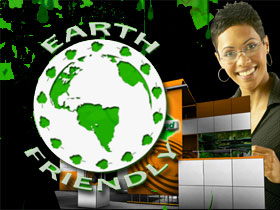 Why is Redeem for Green Offered?
ExpoDisplays is committed to eco-friendly exhibits including finding ways to keep used exhibits out of landfills. With aluminum as the primary component, MultiQuad is already an eco-friendly product. But it is also sturdy, reliable and built to last for many years. We would rather see structurally sound and functional MultiQuad components reused instead of thrown away. It just doesn't make sense to throw away a perfectly usable product.
For complete program details visit the Redeem For Green website at: www.redeemforgreen.net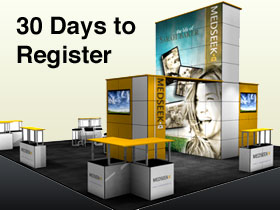 How Does the program work?
ExpoDisplays will take back MultiQuad exhibit systems that are no longer needed. Items that can be reused will be purchased back and resold or rented to someone else. Items that cannot be reused will be recycled if possible. And items that fall into neither category must unfortunately be discarded at ExpoDisplays' expense.
ExpoDisplays will repurchase select MultiQuad components from original owners who registered the product with ExpoDisplays. This free registration must be completed within 30 days of receipt of the product in order to qualify for Redeem for Green.
Instructions for redeeming your MultiQuad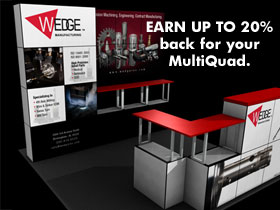 Summary of Redemption Value
MultiQuad items will fall in one of three cash redemption levels: 20%, 10% and 0% (Recycle).
20%: Complete and functional MultiQuad frames including tower, counter and podium frames.
10%: Standard counter tops depending upon condition and color. Standard Quads depending upon condition and color. Standard Accessories depending upon condition, color, and current model relevance. Cases (SC50) if in good working condition and relevant to current MultiQuad products. Lights if functional and if that model is still utilized as an option on MultiQuad.
0%: Non-standard, unique or customized MultiQuad items.
Review full specifics of the redemption values.