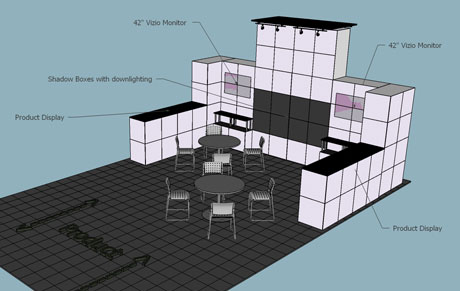 MultiQuad exhibit designed in SketchUp
How can I design my own MultiQuad?
Using one of the world's most popular (and easy to use) 3D modeling tools, Tremble® SketchUp, you can become the exhibit designer and create the MultiQuad of your dreams. The software is free to download and quick to learn and use. To learn more about SketchUp and download your free copy...
Visit SketchUp Website
How does it work?
ExpoDisplays has created an online library collection of all the MultiQuad components (building blocks). You copy and paste these components within SketchUp, and then begin moving them around, designing and arranging them in a way that works for you. You will be able to easily create a 3D rendering of how you would like your MultiQuad exhibit to look and function. The library of components even includes towers and monitors for added accessories to increase your design options.
Ready to get started?
If you're ready to dive into designing your own MultiQuad you need to have SketchUp installed on your computer and then obtain the MultiQuad components from Trimble® 3D Warehouse. You can work with a pre-designed MultiQuad kit as a starting point or you can create your own from scratch from the collection of components using the blank floorplan kits. Just point, click, copy and paste and move them around to meet your specific needs.
Access MultiQuad SketchUp Collections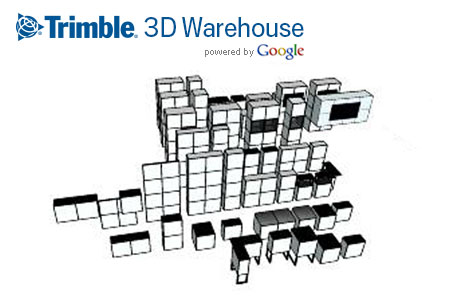 Register for our SketchUp Training Webinar
If you are brand new to SketchUp and exhibit design, you may choose to join us for our free live training webinar on how to setup and use SketchUp. ExpoDisplays will walk you thru the process step-by-step and have you up and running in no time. To register for an upcoming SketchUp webinar, e-mail [email protected].
Working in SketchUp
Not only does building in SketchUp help you visualize your design ideas, but you can export them and share them with ExpoDisplays for a price quote or as a plan to produce your MultiQuad. Show below are examples of designs others have done and shared with ExpoDisplays.