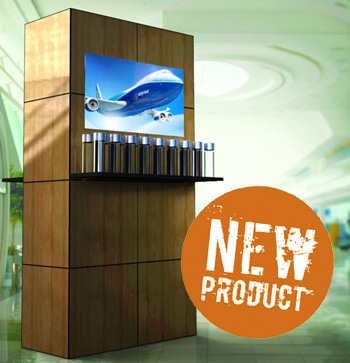 Attract new customers with the MultiQuad Media Kiosk.
Complete with integrated monitor(s), the MultiQuad Media Kiosk is ideal for retail locations and high traffic interior locations. It can easily attract attention with interactive video or product displays. Easily transport and share between locations with convenient portability. So convenient it can pack and ship in most standard vehicles.
What is a MultiQuad Media Kiosk?
How does the Media Kiosk work?
Benefits & Features
Stand alone design —
no additional support needed
Sets up in minutes with no tools
Easy to take down and move
Change your message in seconds
Great as demo stations with add on shelf
Double Sided -- maximize exposure
Add monitors up to 42" in width
Add up to 12 monitors with the Ladder Mount
Great for adding headings, graphics and messages
1,000s of available colors and finishes
Two Sizes to Choose From
Choose the 1 x 4 or the 2 x 4 or combine them together to create a larger kiosk.
Endless Style Choices
MultiQuad Media Kiosks are available in a variety of sizes. You can choose the one that works best for you or combine two to create a larger display. No matter the combination, you will end up with an attractive kiosk that integrates high technology seamlessly and securely.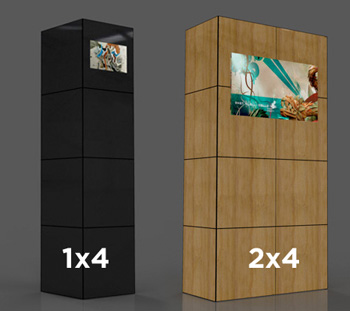 Choose One Size or Mix and Match
You can select one of our standard sizes, a 1x4 or a 2x4, or you combine them to create a larger media kiosk. If you decide to go bigger, you can always seperate at any point to create two indvidual kiosks.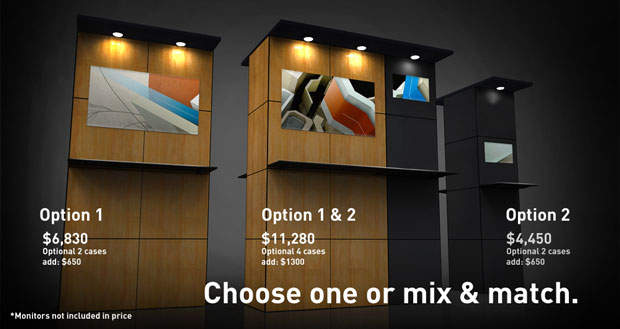 Accessory Upgrades
Enhance your Media Kiosk with a shelf, canopy and lighting. If you are combining two units you can add an accessory to one side only or extend across both.
See the images below for some ideas.